UFC 104 Pre-Fight Conference Video & Notes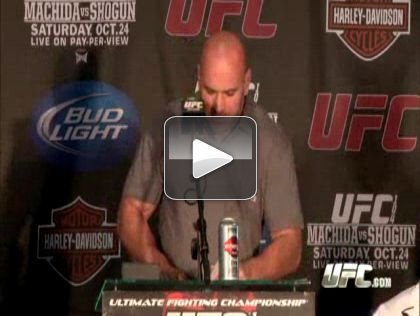 LOS ANGELES -- The
UFC 104
pre-fight news conference took place Thursday afternoon at the Westside Pavilion Mall. Light heavyweight champion
Lyoto Machida
and challenger
Mauricio "Shogun" Rua
were present, along with UFC President Dana White and co-headliners
Cain Velasquez
and
Ben Rothwell
.
Quick notes:
• Co-main event attraction Ben Rothwell said it was unfortunate for Cain Velasquez that he will be the debuting heavyweight's first opponent in the UFC. Rothwell added he knows he is in the right place and is in the best shape of his career.
• Velasquez was short and to the point, saying he was happy to be here, had a great camp and would put on a good show Saturday night.
• Mauricio "Shogun" Rua said he was grateful for the opportunity to fight for the title against UFC light heavyweight champion Lyoto Machida.
• Machida said Los Angeles is his second home and he looks forward to putting on a show for the fans.
• Machida stated that Saturday night is an MMA fight, not a karate fight.
• Rua said he understands that Machida may be a karate-based fighter, but he is well rounded, a talented BJJ practitioner and all-around MMA fighter.
• Rothwell stated he feels no pressure at all making his UFC debut and is really excited about finally getting the opportunity.
• Velasquez said the heavyweight title picture is up to the UFC to decide and that the only thing he can do is go back to the gym and continue to get better.
• UFC President Dana White stated that the winner of Velasquez-Rothwell would definitely be in line for a bout with the winner of Lesnar-Carwin, which will be decided at UFC 106 on Nov. 21 in Las Vegas.
• Machida said he feels the United States is like the capital of the world, especially when it comes to MMA, and that it's very important to fight here.
• Rua said it's special to have two Brazilian fighters competing for the title. Rua said MMA is the biggest international sport in Brazil, aside from soccer, and it's an honor to fight in the United States.
• Rua said health was not an issue against
Mark Coleman
at UFC 93 last January (Rua won a third-round TKO in a labored effort). Rua said it was more about rhythm and timing.
• Rua said he was excited to be fighting another Brazilian. He is fighting for his city, his state and his country.
• Machida said the best thing about this fight is a Brazilian is going to win, but he is putting his money on Belem.
• Machida stated that the media attention was a bit overwhelming once he got to the states, but his team kept him grounded and focused.
• White said the Spike TV lead-in show with preliminary bouts on Sept. 19 did great ratings, but he isn't sure how well it did for UFC 103 because they were going head-to-head with a Floyd Mayweather boxing pay-per-view.