PRESS CONFERENCE HELD FOR STIPE MIOCIC'S ARRIVAL IN CROATIA
(PRESS RELEASE) -- A press conference on the occasion of the arrival of the UFC star Stipe Miočić in Croatia was held yesterday evening at Fight Channel headquarters in Zagreb, Croatia. Stipe Miočić has been one of the most prominent heavyweight MMA fighters in the last couple of years as well #5 in official UFC heavyweight rankings. Although proud of his Croatian origins, Stipe has never been to his parents' homeland before.
The press conference was opened by Fight Channel CEO, Orsat Zovko.
VIDEO NO LONGER EXISTS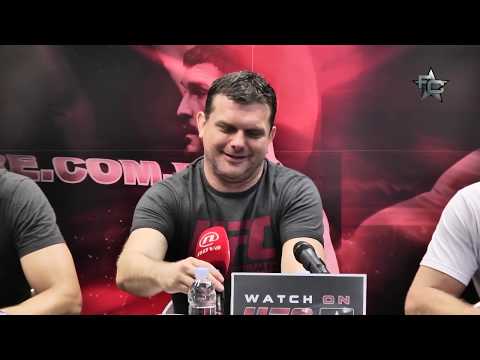 VIDEO NO LONGER EXISTS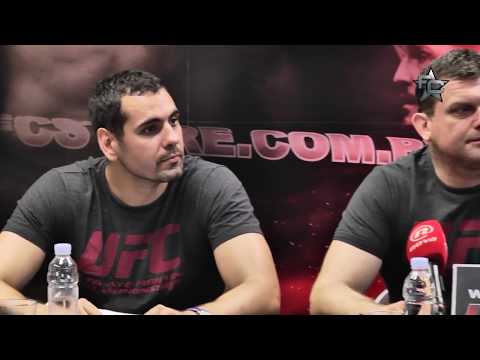 "At this moment Stipe is one of the biggest UFC starts. We are extremely proud he is of Croatian descent. Together with Cro Cop, one of the Croatian legends, Stipe could definitely do something big in this sport. We've been working together and cooperating for quite some time already, we're working on his promotion and I hope we will continue in the same way."
The hall was full of Stipe's fans and he did not need a special introduction.
"I never though this many people will actually show up. I'm happy to be here, in my family's homeland. I'm thankful to be here, in this beautiful country and be Croatian. You guys are awesome. Love your support to me."
Stipe was born in Ohio and he has been into sports since high school, especially wrestling, boxing and baseball. In 2010 he started with MMA while already in 2011 he signed for the world's biggest MMA promotion – UFC where he scored six victories and suffered only one defeat making him #5 in official UFC heavyweight rankings. Despite being a professional MMA fighter, Miočić still works as a firefighter and an emergency technician in Ohio.
Stipe first told everyone what it felt like when he landed in the capital of Croatia.
"When I got off the plane, I didn't cry but my dad was crying. It was awesome. Me and my brother were very excited. I actually couldn't sleep. It was a great moment I saw my dad, it was awesome to be here finally", said Stipe. "I was always trying to come. But I had fighting and school and everything and it was so hard to come. I had so much going on and finally I had open window and I called my dad, I called my brother: 'Hey, we're going.' I had time, I was gonna make it happen. So, we did it and here I am."
Although being in Croatia for only one day, Stipe fell in love with his parents' homeland on the first sight.
"Awesome. Amazing. When we were landing I was looking at the scenery, man, it was awesome. I love open land, I love how beautiful it looks. I live in the city I don't get to see that and it's so beautiful. And people are so great already and it's awesome experience and I've been here only for a day. My plan is just to travel a little bit, see